The SGH ICE fund is an Australian equity funds that looks to invest in industrial companies. Typically, the fund holds 40 companies that are predominately mid to small caps outside the top 100 companies. These are described as the "safe end of small caps" with the aim being to identify growing companies with strong revenue growth. The lead fund manager is Callum Burns who has over 14 year's experience in asset management and has his own funds invested in the fund.
SGH ICE looks to invest in companies that have the following characteristics:
A quality business with sustainable growth
Possesses a sustainable competitive advantage
The companies have barriers to entry for competitors
The companies typically own/use assets that are difficult to replicate
These characteristics provide the funds with the following benefits:
Superior shareholder returns
More certain earnings growth – which is the philosophy of thinking which led to the fund's name.
"Investing in more Certain Earnings Growth"
The following graphs show the historical performance of the fund which has been consistently impressive. This has led to the fund being recognised for several industry awards including the Money Management and Morningstar 2015 small cap fund manager of the year.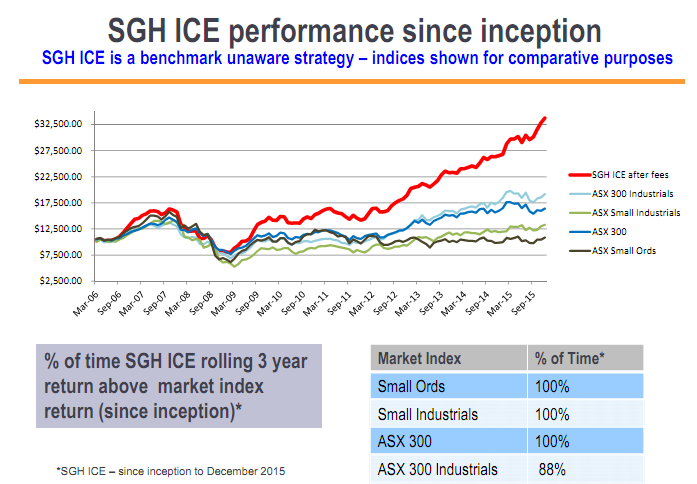 SGH ICE Net Return – December 2015

Looking to the year ahead it likely that the current volatility will continue and the best investment opportunities are going to come from active stock picking. SGH ICE has a proven track record with strong outperformance over all time periods. The fund is well positioned to continue to find value in smaller companies with strong revenue growth. For this reason the fund will remain a core part of the Limberg Asset Management investment strategy.